Good news! Warmly congratulate FYTLED company won the "National High-Tech Enterprise" certificate!
To celebrate the coming of The New Year of 2018 , in the period of ring out the old year and bring in new year, Shenzhen FYTLED Co,Ltd also has a good news!--According to the relevant state regulations of <> and << High-Tech Enterprises management guidelines>>, Shenzhen FYTLED Co, Ltd is recognized as a National High-Tech Enterprise on October, 31st, 2017.
Recently, we also received the certificate of "National High-tech Enterprise" which is jointly issued by Shenzhen Science and Technology Innovation Committee, Shenzhen Finance Committee, Shenzhen State Administration of Taxation and Shenzhen Local Taxation Bureau with the certificate number: GR201744201972, thus we officially entered the ranks of national high-tech enterprises.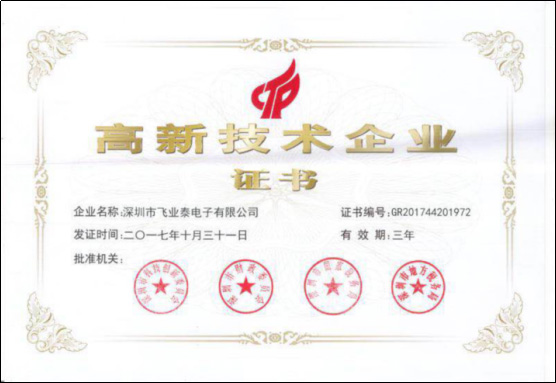 Since its founding, FYTLED has always attached great importance to scientific and technological innovation, FYTLED has fruitful achievement in R & D , with a German utility model patents, 6 domestic utility model patents, a EU appearance patent, 4 domestic appearance patents, and a number of patents are under pending too. In order to achieve the company's strategic goal of becoming a national high-tech enterprise, FYTLED set up a bidding group of "high-tech enterprises" in the first half of the year, and assigned a special person to take charge of the information. After nearly six months, the company experienced rigorous evaluation and approval procedures, and finally through the enterprise declaration, local preliminary examination, expert review, national review, publicity and other rigorous procedures identified which are one of the highest honor of China's science and technology innovation.
The "national high-tech enterprise" is identified as the core independent intellectual property rights of the company, the ability of transformation of scientific, research and development of the level of organization and management, comprehensive evaluation and identification of growth index and talent structure. The award of this honor is the state's full affirmation of the electronic R & D and technological innovation ability of FYTLED, and a whip and incentive for the continuous development of the company. FYTLED, we will take this opportunity, continue to increase investment in research and development in LED lighting applications and LED power supply, strengthen the transformation of scientific and technological achievements, enhance the influence of the company and the competitiveness of the market, strive to realize the leapfrog development of the company.
In the future, FYTLED will always adhere to the enterprise spirit of "realistic, efficient and win-win", constantly break through the self and seek sustainable development in the innovation.